Home Education Convention 2023: Keep the Faith!
May 25

-

May 27

|

$50 – $120
Event Navigation
HOME EDUCATION CONVENTION 2023
Keep the Faith

We are excited to announce that the AHEA 2023 Convention will be in Red Deer at the Westerner location on May 25-27th, 2023.
Our theme this year is "Keep the Faith", and our keynote speakers include Durenda Wilson, and Michael Thiessen.
Find out more by downloading our Brochure, here.
See the list of Exhibitors Currently Registered here with more to come……
Exhibitors
A Likely Story Used Books
Alberta Parents' Union
Accelerated Christian Education Canada
ARPA Canada
BCS@Home
Better Books and Bibles
Bibles for Muslims
Blue Mantle Educational Supplies
Burman University
Canadian Baptist Theological Seminary & College
CCBR (Canadian Centre for Bio-Ethical Reform)
Christian Light Education
Clearwater College
Classical Conversations Canada
Classical Education Books
Colourful Travels Inc.
Concordia University of Edmonton
Crack the Cursive Code
Creation Science Association of Alberta
Discovery Toys
Edmonton Prolife Society
Effective Speed Reading
Family Money School
Family Learning Centre
Foundation Baptist College
GFA World
Harvest Baptist
Heritage Resources
History Plus!
Home School Legal Defence Association
Hope Homeschooling
Impact Canada
Impact Fiction
Inheritance Publications
Koinonia
Le French Teacher
Little Shoots, Deep Roots
Living Books
LMP Teaching Connections Clearance
MathCanada – Math-U-See
Merchant Ship
Millar College of the Bible
Modeste Creek Saddles
Nanny McCluckins Chick Hatching Experiences
NILD Canada (National Institute for Learning Development)
Peace River Bible Institute
Pioneer Bible Translators of Canada
Prairie College
Red Deer Polytechnic
Rod and Staff by Lighthouse Ministries
Roots Home Education
Science Is…
Smart
Teaching Textbooks
THEE Homeschooling (Traditional Home Education Experts)
The Honey Merchants
The Learning House
The Sage Mustang
The Voice of the Martyrs Canada
The Weiss Company
Tree of Life School and Book Service Ltd.
Untold Secrets of Planet Earth Publishing Company Inc.
Usborne Books
Used Book Treasures
Vanguard College
Wisdom
CONVENTION 2023:
KEEP THE FAITH
Early Bird Registration is open!
Special Early Bird pricing is:
Adult – $120
Couples – $160
Youth – $60
Shop Only – $50
Over 25 Breakout and Exhibitor Workshops including:
Early Literacy and Phonemic Awareness
Homeschooling: What Does the Research Say?
Back to the Future: Teaching History Together
Canadian University Admissions for Home Educated Students
Nurturing Knowledgeable Netizens
How to Nurture Authentic Connections With Your Child Through Healthy Communication
Making Math Fun, Entrepreneurship for Families
Teaching the Whole Child
Understanding Dysgraphia
Apprenticeship in the Trades
Spread Your Wings
Creating a Family Challenge
The Sandwich Generation
Understanding Educational Philosophies: From Montessori to Charlotte Mason
Restoring Your Freedoms
Building a Christian Home with Truth and Beauty
Veteran Mom's Panel
Folk Dance Workshop
The Power of STORY
Building Community with Good Books
Untold Secrets of Planet Earth: Flood Fossils
Trouble on the Way
Entrepreneurship in the Family
Creating a Family Challenge
and for the Youth Workshops:
Icebreaker Games
Worldviews Exposed
Hands-on History and Science of Forensics (2 parts)
Being An Overcomer No Matter What you are Going Through
Preparing For and Protecting Marriage
Mock Parliament (2 parts)
Speakers: Dawna Ferguson, Signmund Brouwer, Stephanie Morrison, Tammy Mung, Jolene Biegal, Sandy Paddick, Peter Stock, Dr. Joe Woodard, Brenda Jones, Joel Arnold, John Carpay, Terry Riechel, Yvonne Harink, Felicia Wierenga, Corrie Vandeburgh, Chrystal Seutter McClellan, Joanne Pennington, Tim Stephens, Andree Verhoog, Melodie Vervlooet, Christina Vanderszyl, Hester VanBraeden, Stephanie Morrison, Vance Nelson, Christine Thomas, Jeff McConnel, Daniel Allers
The Schedule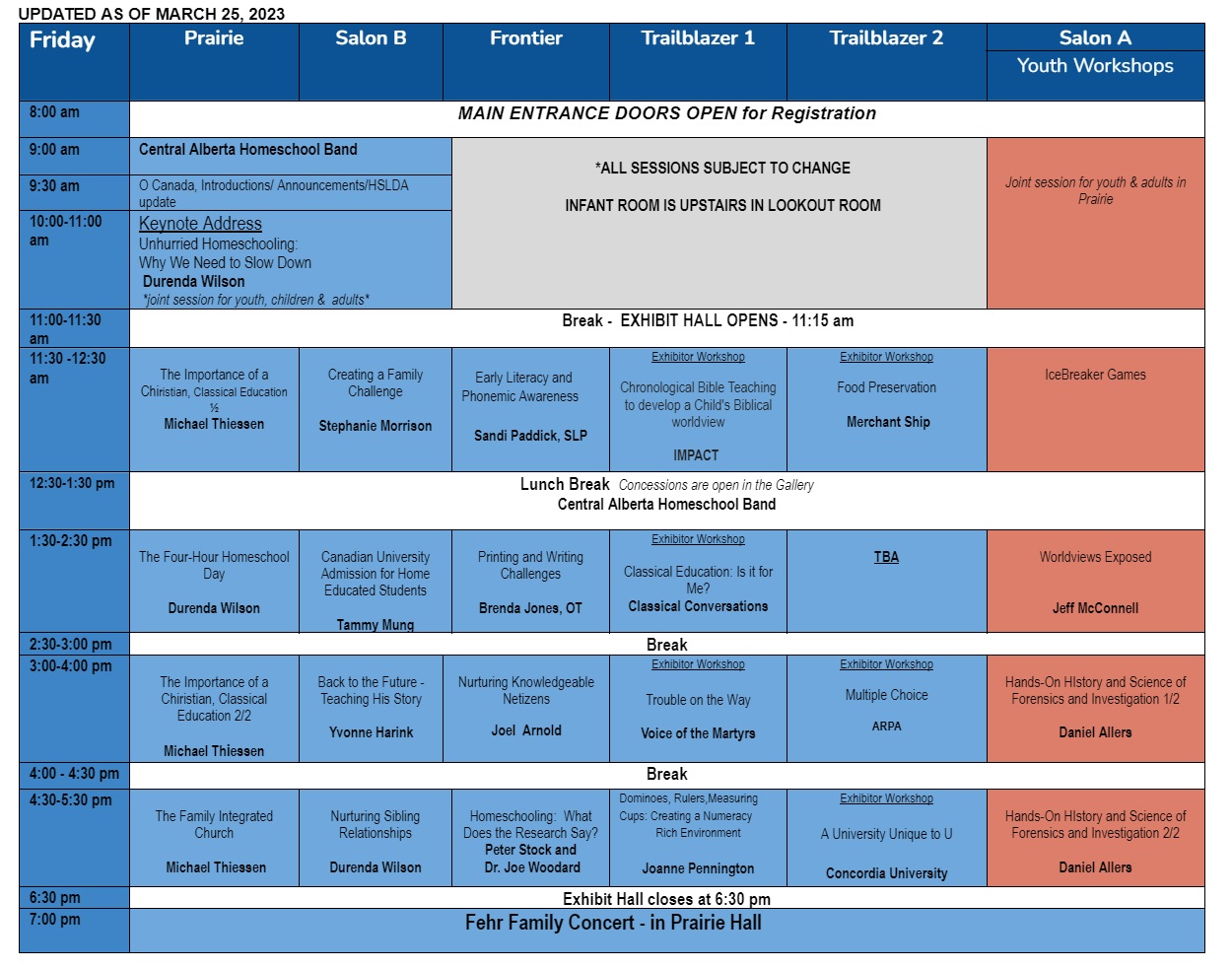 Related Events
SUBMIT EVENT

Let everyone know about
your event!

GET CONNECTED

Join the Circle of Friends for email alerts and updates.

CONTACT US

Didn't catch that number? Need our address? Find it here.